8 Best Gift Bags of Jute
admin
India is popular for its culture and tradition. We celebrate so often that people say we have over 50 festivals in a year. People love to visit others, shower their love with them through ravishing gifts, follow rituals and celebrate all together. To gift others, we always try to be unique and search for out-of-the-box kind of thing. While gifting we all seek colorful and beautiful bags that would enhance the look of our gifts, build better memories and maintain a great impression. Keeping these requirements in the mind, here are the eight jute bags that are ideal as a gift or can be served for any gifting purposes.
Jute bags designed for gifts have a special outlook that would suit any occasion or event. You can give these beautiful handbags to your friends and relatives. The color and texture of these bags stand out among others. There are varieties of gift bags made up of jute.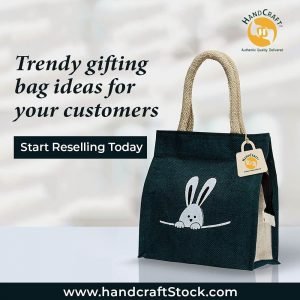 The creative shape of these jute bags totally depends upon the gussets. Some are like colorful tote bags while others are triangular in shape. The stunning printed borders also add elegance to their look.
These designed jute bags have very cool prints on them. Some bags have a great combination of colors with the jute's natural color while others have golden prints which make them look gorgeous. These handbags come in different styles.

One among of such have two cotton webbed handles that provide a softer grip with a zipper attached to it. Another set of jute bags is available with a single strap and open mouth. Jute vendors can keep these utilitarian bags in their shop and resell them to their customers. Due to their elegant look, people love to buy them.
These jute bags are mostly popular for goodies. They are cute little bags made from jute that can be given on special occasions. You can give small gifts in this and fasten this with strings attached to it. The shape of the bag is unique to all.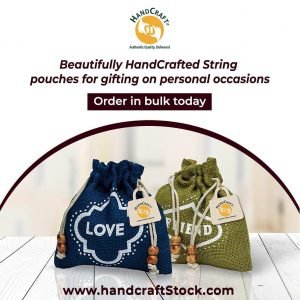 These little jute bags can be given at wedding functions or events to the guests as a welcome gift. The small size of the bag makes it super handy, anyone can keep their small objects safe in these jute bags.
Like any other shopping bag, these unlaminated jute bags are super cool and handy. You can take this bag anywhere you go. Plus this would help you carry things, clothes, textbooks, groceries, etc.

Due to their larger spectrum of utility, these jute handbags are ideal for gifting purposes. The person receiving these eco-friendly handbags would definitely use them for a longer run.
Bags with windows have always acquired special attention. Jute bags are being popular these days for their economical nature and utility. These bags are ideal for gifting purposes. You can wrap your gifts in colorful glittery wrappers and put them inside these bags.

The window gives a fine exposure to your gifts and enhances their look. These handbags come with flaps that can be fastened with velcro. You can give these gifting bags to your friends and family at any party or function. There is a wide range of solid color jute gift bags with windows available on our website.
Bags with traditional prints are evergreen as they are never out of fashion. There are many famous traditional paintings in our Indian culture. One such design is the Warli painting which gained its popularity from Maharashtra. Warli painting depicts a positive outlook that involves stick drawing of people and animals performing art.

These traditional printed jute bags have such ancestral prints on them which make these bags special among all. These bags can be used in any festive season or traditional ceremonies. These handbags would be an ideal fit in the moment of celebration.
Jute bags with colorful prints have a special attraction towards ladies. The color used in these bags is laminated in such a way that enhances their look. The global prints on these bags, be it of flowers, leaves, or any patterns, make these bags unique.

These handbags are the perfect utilitarian bags for women. One can carry this bag to the supermarket as well as to a party. So if you are planning to gift a handbag then you must go for this printed jute bag. These nature-friendly bags can be given as gifts to your friends, relatives, or family. As a vendor, one can resell these bags to their customers while they are searching for a perfect fit for their outfit.
Unlike other jute handbags, these bags are relatively smaller in size. One can carry these bags as they are super handy and can carry useful things for you. These sustainable handbags are available in various colors, prints, and designs. The gussets of these bags are designed in such a manner that would provide a creative look on each one of them.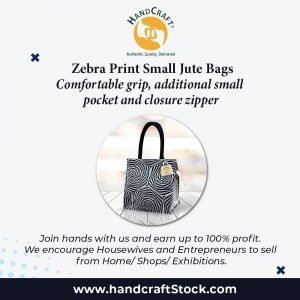 There is a range of bags that have buttons, flaps, or zippers in them. The cool prints on these bags make them cute and adorable to carry. As a jute vendor, you can definitely increase your sales through these jute bags. People love to carry such astounding eco-friendly bags and these can also be used as gifts or for any gifting purposes. These bags are available in geometrical prints, butterflies prints, floral patterns as well as have beautiful and colorful designs.
We at HandCraft Worldwide Company, deal with a wide range of beautiful jute bags. We are listed among one of the finest jute bag manufacturers in India. Our products have gained their popularity from in and around our country. The above-listed bags are an ideal match for any event or celebration. Even if you are planning to gift something, then you must go through our exclusive collection of jute bags on our website.