How are jute bags made? Here's the complete process of making a jute bag!
admin
Did this ever happen to you that you are in a tradeshow and you keep looking at those beautifully woven things and keep wondering what if you could be a part of that process?. There are a variety of handcrafted objects made from various natural fibers. Those objects are so alluring with such intricate designs and especially refined surfaces on them.
Many of these handicrafts are made of jute and we prefer them to add our home decor or into our collections. One of such fascinating crafts included jute bags. Here's an article on how jute bags are made. Apart from what are jute bags, you can also learn some of the astounding facts about how our skillful craftsmen carry out this process.

Jute And Its Properties:
India is known for its culture and traditions. The culture of this country does not only include beliefs but also artistry. India has been the topmost country known for its beautiful handicrafts. In modern times, this art of crafting things seems to have a powerful impact on youth in the context of the environment. As these handicrafts have been made of natural fibers and processes, they have a higher value than any other products.
Adapting this nature-friendly feature of our custom, people are attracted towards usage of natural products these days. They are replacing synthetic products with natural products that are made of cotton, paper or jute, etc.
Jute is one of the finest natural fibers that are available abundantly in India. Its have some special physical properties like strength, durability, sustainability, biodegradability, etc. Various jute products are made from these strong fibers for example jute shopping bags are the most utilitarian bag available that can withhold a large number of things altogether. So before knowing about the utility of these bags, let us explore how these bags are made.
Growing And Harvesting Jute:
Jute is obtained from long jute stems that are skillfully cultivated. Cultivativation of jute is appropriate in warm and wet climates. At first, farmers sow the jute seeds in the field. After the plants grow for about 15-20 tall, they start to thin out. The harvesting of jute takes place after 4 months of cultivation. After the flowering season, the stalks are cut from the ground's nearest level and tied into bundles.
These jute bundles are then soaked in water for about 20 days. This would help in softening the tissues and through this process, jute fibers get separated. This soaking of jute plants to obtain fibers is called retting.
These softened fibers are then tied and hung up to dry. After 2-3 days of drying, these fibers are fastened into bundles for further process. This is why jute is called bast fiber because the obtained jute strands are the plant's bast tissue.
Extracting And Processing Jute Fibers:
The extraction of jute fibers is a tedious process where the farmers have to put extra effort into these soaked jute plants. To make the process easier, they allow bacteria to react with these plants and help in dissolving the cellular, sticky substances surrounding these bast fibers.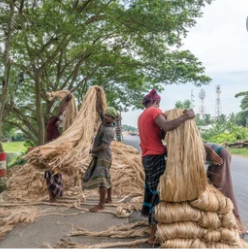 The available processes of retting are mechanical retting, chemical retting, steam retting, and water or microbial retting. After this, these fibers are then extracted from the plant stem through hands (stripping of fibers) and are allowed to dry completely. The dried-up jute fibers are then further processed by craftsmen that can be used in the making of bags.
Jute Fibers Into Jute Bags:
The presence of various jute fiber properties is helpful to mold such strands into useful products.  The process of making jute bags are carried with great precision and accuracy. Only highly skilled craftsmen can do this process.
After fetching the raw jute fibers, they are spawned into yarn. These fibers are then processed with many chemical procedures to enhance their properties. They are made resistant to fire and water in this process. These processed jute strands are then woven into various types of jute fabrics like white jute, tossa jute, mesta jute, and jute cuttings.
These woven jute fibers are then laminated with LDPE lamination. This lamination adds amazing properties like high strength in low temperature, better adaptability to different weathers, higher temperature resistance, etc.
These fabrics are then dyed and sent to our cutting department to make different sizes of fabrics according to any specific patterns or designs. The dyes used for making these colorful bags are completely azo-free that would avoid spreading toxicity through chemicals. These neatly cut fabrics are then sent for screen printing before further stitching the bags.
HandCraft Worldwide Company offers an amazing feature of customizing bags according to our client's requirements. These bags are designed and printed as per the client's specifications.
There are many advantages of jute bags among which sales promotions have been the most widely acquired usage. Any business organization can have their brand's name or logo printed on these bags and use these bags to gift their clients or employees. This is the most affordable and cheapest way to promote a company.
We, at HandCraft, deal with a variety of jute products like jute office bags, laptop bags, lunch bags, etc. These bags are designed specially to serve the purpose of users in multiple situations. Our special attention to these jute bags signifies our contribution towards making our environment healthy. As we use purely natural products and processes to make these bags, you can consider these bags as completely eco-friendly. In short, these multipurpose bags are affordable, attractive, and durable which would make a perfect match to any of our daily requirements. You can use these bags as your go-to bags.
We have been a leading wholesale jute bags manufacturer in India for more than 5 years. To explore our exclusive collection of jute bags, you can visit our website and go through our products. As we deal in wholesale supplies, you can order these appealing bags in bulk.